Storage Units in Show Low/Lakeside
Conveniently located in Lakeside. Alpine Storage in Lakeside is open year-round with convenient access 7 days a week. Low monthly rates and completely lighted property.
Friendly Customer Service
Competitive Rates
Conveniently Located 1/2 mile south of Walmart
Completely fenced
Manager lives on site
Covered RV parking
Front & Back Gates for easy access
Large Moving Vans No Problem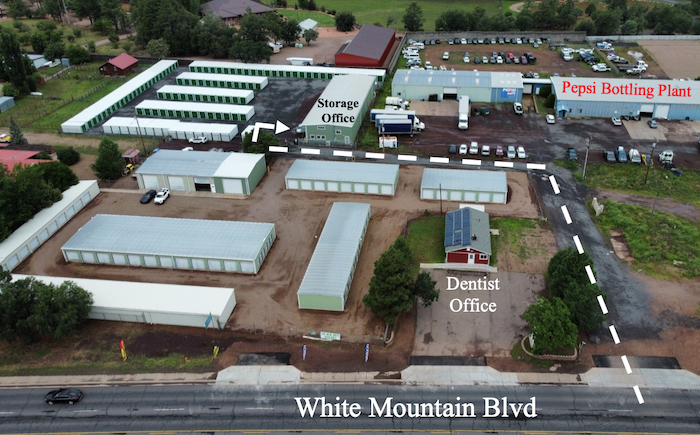 What do storage units cost at Alpine Storage?
4' x 5' unit is $40.00 per month
5' x 10' unit is $55.00 per month
6' x 12' unit is $65.00 per month
10' x 10' unit is $85.00 per month
10' x 12' unit is $90.00 per month
10' x 15' unit is $105.00 per month
10' x 20' unit is $130.00 per month
Covered RV Parking is $160.00 per month
Conveniently Located
Alpine Storage is the most centrally located storage company in the White Mountain area. For those of you who have household items cluttering up your valuable garage space or for contractors with supplies using up that precious space at home and in the back of your trucks, we are here for you. We have all sizes of storage units, from 4′ x 5′ to 10′ x 30′. All units have large doors for easy access. We will store your items in a clean and safe place.
Access 7 Days A Week
Whether you're a local here in the beautiful White Mountains of Arizona or a seasonal visitor, we are always here providing our excellent services. The Alpine Storage manager lives on the premises and is always friendly, courteous, and accommodating. We are centrally located in Lakeside 1 mile south of Walmart on White Mountain Blvd.
RV & Mini Storage
We also have covered RV parking spaces. Come in and check us out today!
Alpine Storage Contact Info
5010 Wagon Trail
Lakeside, AZ 85929
Office Number
(928) 537-7250
Office Hours
Mon – Fri: 10am-5pm
Sat: 9am-12pm
Sun: Closed